About Us
Our Name
The name and logo represents connection, support and spirituality through three key elements: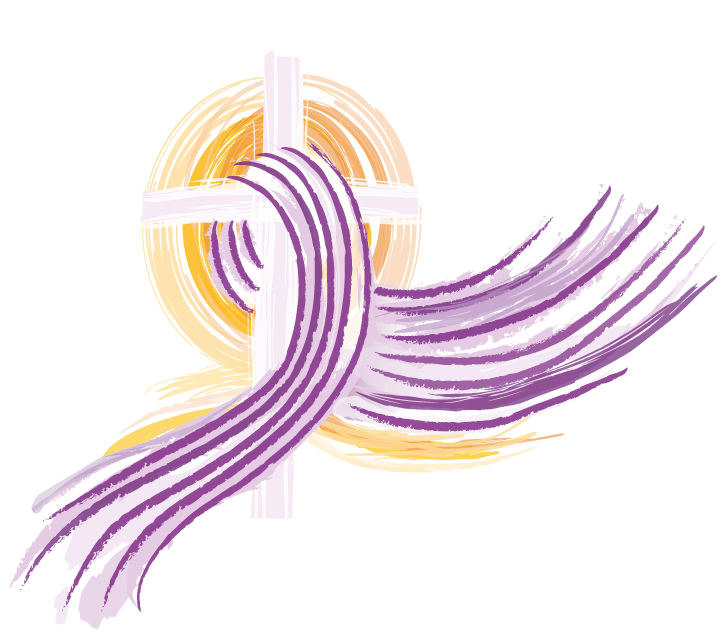 A rustic cross – Christianity and a connection to our land,
Woven with our feminine strands - flowing, free, looking forward,
With Christ - our Divine golden thread, at the heart.
Principles
Our Guiding Principles are to:
empower women to take initiative and recognise possibilities to foster creative action in spirituality and growth;
support, encourage and assist in the organisation of local initiatives;
facilitate and organise events which foster spiritual growth and the dignity ofwomen;
promote existing activities and groups.
Committee
Patron: Sr Margaret Walsh pvbm
Co-Chairs: Michelle Naimo, Christine Savage
Secretary: Anne Brown, Elizabeth Madden
Treasurer: Megan Moon
Committee: Aunty Mary Atkinson, Janice Drew, Bernadette Kennedy, Susan McLaurin, Jane Plum, Liz Rothe rsm, Maureen Salmon
History
The National Council for Australian Catholic Women (CACW), was established in December 2000, initially as a Commission, by the Australian Catholic Bishops Conference (ACBC) and driven by findings of the Woman and Man: One in Christ Jesus research project. The CACW aims to promote the participation of women in the Catholic Church of Australia. It exists to ensure the dignity of women is honoured and their gifts are given space to flourish for the sake of the Church's life and mission. (ACBC 2017)
CACW became a Council and advisory body to the Australian Bishops Commission for Church Ministry in 2006. Its key roles centre on communication, education and support for Catholic women at grass roots level in each Diocese.
A branch of the CACW was first established in the Wagga Diocese in 2003, fully supported by Bishop Hanna. Mary Crimmins was the first chair and there were two representatives from each deanery. Since 2003, CACW has held eight Spirituality Days in Wagga, Albury and Leeton and a number of adult faith formation training days.
In November 2019, the Australian Catholic Bishops Conference decided to subsume the Office for the Participation of Women and CACW into the Bishops Commission for Evangelisation, Laity and Ministry. This meant that in its 20th year CACW was made redundant.
In February 2020, the current CACW Executive thought it was important to continue the work of CACW in this Diocese. This was discussed with Bishop Mark Edwards in September 2020. Bishop Mark was very interested in the history and work of CACW and was very supportive of this continuing. The Executive then discussed a new name and logo for this stand alone Diocesan group, modified the Guiding Principles and began the design of this website which will link to the Diocesan website.
Key references for the history of CACW are:
Woman and Man: One in Christ Jesus published in 1999 by Harper Collins Religious
Women in the Catholic Church in Australia Reflections on Woman and Man Ten Years On, a Catholic Social Justice Series, No 67
Still Listening to the Spirit Woman and Man Twenty Years Later, Edited by Sandie Cornish and Andrea Dean
In 2022 we hope to start work on writing a formal history of CACW in the Wagga Wagga Diocese.
CACW Timeline
1996
The ACBC commissioned a major research project studying the participation of women in the Catholic Church.
1999
In April the final report, Woman and Man One in Christ Jesus, was published.
2000
In September, the ACBC published their Social Justice Sunday Statement, endorsing the Report with 9 decisions: No 8 – to establish a Commission for Australian Catholic Women: No 9 – to establish an office to assist the Commission (OPW) and appoint an Executive Officer. The Statement included 31 proposals which "bishops might wish to consider".
In December, the Commission for Australian Catholic Women was announced.
2001
In June, the Commission was formally commissioned in St Mary's Cathedral.
2003
In September, the Wagga Wagga Diocesan Council for Australian Catholic Women was established with a constitution, policies and procedures. There were 9 members, appointees of the Bishop: 6 women, 1 clergy, 1 religious and 1 male. There was an annual "Voice of Women" gathering held in the Diocese in March each year and the chair presented the annual report then. Deanery representatives were selected and attended regular diocesan meetings. Parish representatives were elected by each parish and attended the annual gathering.
2005
Book launch: And the Dance Goes On, An Anthology of Australian Catholic Women's Stories.|
2006
In May, there was a change of name from Commission to Council - a permanent advisory Council to the Bishop's Commission for Church Ministry and the Bishops Commission for Pastoral Life.
In November, CACW-WW held its first Diocesan Spirituality Day in Wagga. These were held annually until 2010. (See Table 1 for full details)
2007
Diocesan Spirituality Day, Yanco
2008
Diocesan Spirituality Day, Albury
2009
Diocesan Spirituality Day, Wagga
2010
Diocesan Spirituality Day, Leeton which included the display of the National Photographic Exhibition of Inspirational Australian Catholic Women - 43 women with 3 from the Wagga Diocese. Decision made that the Wagga Wagga Diocesan Council would go into recess.|
2013
CACW National Colloquium, Wisdom at the Gate, in North Sydney. Bishop Hannah sponsored the registration fee for four women from the Diocese to attend, and the Presentation Sisters sponsored three from the Presentation Associates. WW Diocese sponsored two young women to attend the National CACW program, Catholic Women's Fellowship.
In November, Colloquium attendees met with Bishop Hanna who encouraged the rekindling of CACW_WW.
2014
In February, a meeting was convened at Lockhart to discuss re-vitalising CACW in the Diocese. Bishop Hanna and the Executive Officer of OPW (Donella Johnston) attended. As there was support to rekindle CACW in the Diocese and the Bishop approved, a Committee was then formed to organise a Diocesan Spirituality Day.
In September, a Diocesan Spirituality Day was held at Sacred Heart, Kooringal.
2015
CACW/OPW program, Young Catholic Women's Interfaith Fellowship: two young women from the Diocese were sponsored and completed this 2 year program.
2016
National Colloquium, Women as Witnesses to the Joy of the Gospel: developing a more profound theology of women, for women, by women, held in North Sydney. Again, the Bishop sponsored four women from the Diocese to attend.
2017
In February, CACW-WW was formally re-activated with a Committee and guiding principles. Diocesan Spirituality Day at Kildare Catholic College, Wagga.
2018
Plenary Council, Listening and Discernment – submission prepared and submitted.
2019
February: National Colloquium, Stirring the Waters, Catholic Women responding to the Spirit, held in Adelaide. Five women attended from the Diocese: two sponsored by the Diocese, two by the Presentation sisters and one was self-funded. A Report on Colloquium 2019 was prepared and distributed to Fr Kevin O'Reilly, Together and Sacred Heart Parish Council. Presentations were given to the Presentation Associates and to a Plenary Council Information session at Sacred Heart Kooringal.
March: CACW_WW Listening submission sent to Plenary Council.
August: Diocesan Spirituality Day at Kildare Catholic College, Wagga.
November: Publication of 'Still Listening to the Spirit' the final project of the Office for the Participation of Women, marking the 20 years since the research into women's participation in the Catholic Church in Australia.
December: CACW-WW Discernment submission sent to Plenary Council. The ACBC disestablished the CACW and OPW. Responsibilities of CACW and OPW were delegated to the Commission for Evangelisation, Laity and Ministry and the National Centre for Evangelisation.
2020
CACW-WW Committee met in February and decided to continue our work, pending the appointment of a bishop. Office bearers were elected and a letter sent to Archbishop Prowse expressing concern at the demise of the national CACW and OPW, and seeking advice on how their work will be progressed in the new structure and how our group can best communicate with them. The Committee decided to survey members seeking their ideas on the future of CACW-WW, including Spirituality Days, and to develop a website and explore social media possibilities.
Days of Spirituality & Prayer
| Year | Speaker & Theme | Venue | Attendance |
| --- | --- | --- | --- |
| 2006 | Dr Kerrie Hide, Spirituality & Prayer of Julian of Norwich | Carriage Inn, Wagga Wagga | 120 |
| 2007 | Janette Murray, Desire and Prayer: Challenge of Holiness for each of us | Yanco Agricultural Institute, Yanco | 100+ |
| 2008 | Sr Catherine Slattery, What Can be Sweeter to us than the voice of the Lord calling (Rule of St Benedict) | Xavier High, Albury | 130 |
| 2009 | Sr Eileen Glass rsj, Women in Scripture | Mater Dei High School, Wagga | 85 |
| 2010 | Sr Lynnette Young rsj | St Francis College, Leeton | 90 |
| 2014 | Jill Gowdie, Andrea Dean, Springs of New Wisdom | Sacred Heart, Kooringal | 200+ |
| 2017 | Megan Brock, Beyond food, flowers and feather dusters: Women an untapped resource | Kildare Catholic College, Wagga | 120 |
| 2019 | Sr Margie Abbott & Sally Neaves, Come…be attentive to the Spirit; explore and ponder; share insights and hopes for all creation. | Kildare Catholic College, Wagga | 120 |
| 2021 | Sr Michele Connolly rsj, Marilyn Bellett, Andrea Dean, Who is my neighbor? Let us dream Let us weave a new path | Narrandera High School, Narrandera | Postponed |
| 2022 | Sr Michele Connolly rsj, Dr Cristina Lledo Gomez | Kildare Catholic College, Wagga | 90 |
Weaving
The ancient practice of weaving encompasses the essence of Spirit Weavers: connection, support & spirituality.
We are all single threads in God's tapestry of life – our own life, our community and the life of our world. We are separate strands making the whole. We can be of many colours and textures, creative, using regular or abstract patterns, sometimes working alone, other times with others – sharing and learning, watching the pattern emerge little by little to make a beautiful and strong fabric.
Sometimes we are frayed and at loose ends; we may be hemmed in by walls of exclusion/isolation; sometimes we have to unravel doubts, bias, assumptions.
Weaving can be a metaphor for prayer, weaving our thoughts as a conversation with God. With others we can share our lives and longings, woven together in God. We can all weave our gospel-centred threads into our families, communities and our world.
Prayers related to Weaving
Prayer to the Weaver God
Lord in your hands we are as skeins of thread
Each day may we allow ourselves to be woven by you
In and out, through and through
As we seek to become more like you.
God of surprises, may your image be evident In the tapestry of each of our lives
An image enhanced by the strands from lives
That has been intertwined with ours.
Let there be no broken or knotted threads
As you, O weaver God put all things right
Only when our work is done will we see
The other side of the picture that is our life
Weaver-God, we place our lives in your hands Weave on-in and out, over and through Until we become more like you.
Amen
— Source unknown
Life is But a Weaving
My life is but a weaving
Between my God and me.
I cannot choose the colors
He weaveth steadily.
Oft' times He weaveth sorrow;
And I in foolish pride
Forget He sees the upper
And I the underside.
Not 'til the loom is silent
And the shuttles cease to fly
Will God unroll the canvas
And reveal the reason why.
The dark threads are as needful
In the weaver's skillful hand
As the threads of gold and silver
In the pattern He has planned
He knows, He loves, He cares;
Nothing this truth can dim.
He gives the very best to those
— Grant Colfax Tullar
Some more beautiful thoughts on weaving.