Activities
Upcoming Events
Spirituality Day
Saturday May 14, 2022
The 9th Diocesan Spirituality Day for Women was scheduled for 28 August last year. However, due to the many changing Covid restrictions, this had to be postponed. We are pleased to announce the day has been rescheduled for Saturday 14 May 2022, same time but a different venue.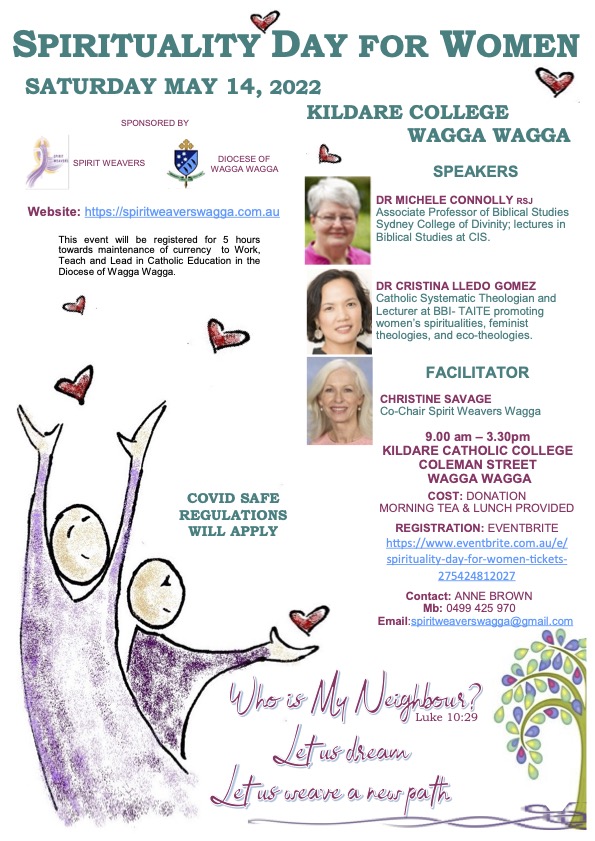 When: Saturday, 14 th May, 9.00am – 3.30pm
Where: Kildare Catholic College Hall, Coleman St, Wagga Wagga
What: Who Is My Neighbour? Let Us Dream, Let Us Weave A New Path
Cost: Donation (morning tea and lunch supplied)
We have two outstanding speakers, Dr Michele Connolly and Dr Cristina Lledo Gomez. Michele Connolly is a sister of St Joseph of Lochinvar in the Hunter Valley. She is an Associate Professor of Biblical Studies, and Biblical Studies and Discipline Coordinator at the Sydney College of Divinity and lectures in Biblical Studies at the Catholic Institute of Sydney. After teaching in secondary schools, Michele studied theology, graduating with a PhD from GTU, Berkeley, CA. Michele speaks regularly around Australia at conferences on the Scriptures. Michele's principal area of interest is the Gospel of Mark.
Cristina Lledo Gomez is a Catholic Systematic Theologian and the Presentation Sisters Lecturer at BBI-The Australian Institute of Theological Education (TAITE.) She is also a Religion and Society Research Fellow at Charles Sturt University's Public and Contextual Theology Research Centre. Her role at BBI-TAITE is directed toward promoting women's spiritualities, feminist theologies, and ecotheologies. Cristina is mother to Julian and Sophia, and wife to Adrian, a high school teacher, permanent deacon, and chaplain of the Australian
Navy.
The day is a time to reflect, to explore ways to build a better world, to dream of what could be. The Day will reflect on Pope Francis' encyclical Fratelli Tuti , encouraging fraternity, sisters and brothers all, and friendship as the ways to build a better, more just and peaceful world, with the contribution of all people and institutions.
Register at Eventbrite or by contacting Anne Brown, or phone
All welcome.
Previous Events
Synod 2021-2023
20 January 2022
Spirit Weavers - Contemplative Active Christian Women Wagga Wagga Diocese – have been busy during January and February formulating their response for submission to the Pope's Synod on Synodality.
After an invitation to the women of the Diocese, 16 women met via Zoom on 20 January to discuss and prepare a draft submission. Participants were divided into 3 groups aligned to the three themes of Communion, Mission, and Participation.
Each group followed the ACBC guidelines to pray, read and reflect, share and listen, pray and respond. An initial response to each of the themes was then formulated by each group. The 3 drafts were then refined according to a key guideline for submissions – the need to adhere to a maximum of 250 words.
The Spirit Weavers team met twice in February to review and agree on the final documents. These were circulated to all those who attended the 20 January meeting before submission. The three submissions, for Communion, Participation and Mission, were sent to the official site https://www.catholic.org.au/synodalchurch prior to the 13 March deadline. Copies of the submissions were forwarded to Bishop Mark and the Diocesan Coordinator.
Spiritual Direction
Spiritual direction is an opportunity to grow in noticing and responding to God's presence in your daily life with the support of a spiritual director
What is Spiritual Direction?
Spiritual direction encourages you to explore a closer relationship with God. In the midst of a busy life, many people find it difficult to notice God's action in their daily life. Yet, at the deepest level, all of us long for a more conscious experience on God's presence and love.
Why spiritual direction?
You might want to come to spiritual direction for a variety of reason, including:
Identify and trust your experiences of God
Integrate spirituality into your daily life
Discern and make difficult choices
Share your hopes, struggles and losses
How does it work?
You usually meet with your spiritual director for an hour once a month at a designated location. The spiritual director journeys with you as you deepen your relationship with God and this journey takes place in a confidential one-to-one session. You are asked to contributed with a designated fee or a free-will donation.
Who are spiritual directors?
Spiritual directors have extensive training as well as on-going formation and supervision and they meet regularly with a spiritual director. ANSD Riverina is a member group of the Australian Network of Spiritual Directors (ANSD). This network is recognised and supported by the Australian Ecumenical Council for Spiritual Direction (AECSD).
Contacts
Breath of Life
Breath of Life Ministry of the Presentation Congregation of Wagga Wagga. Breath of Life offers spiritual renewal and nourishment for those on the journey of faith both as individuals and groups.
What is Breath of Life Ministry
The Breath of Life Ministry grew out of the Weeks of Guided Prayer that Sr Margaret Walsh pbvm introduced into the Diocese of Wagga Wagga in 1999. In 2002, Bishop Gerard Hanna endorsed the programme of Weeks of Guided Prayer and employed Sr Margaret Walsh pbvm to work part-time in this ministry throughout the Diocese of Wagga Wagga. Later the programme became to be known as the Breath of Life Ministry. In 2021 the Breath of Life became a ministry of the Presentation Congregation, Wagga Wagga
Breath of Life offers…
Weeks or Month of Guided Prayer in your town
Days of Prayer and Reflection
Women's Spirituality eg Sophia Circle
Retreats
Spirituality Seminars eg Mystics
Scripture Workshops
Book Groups
Individual Spiritual Direction
Contact
Sr Margaret Walsh pbvm
Wagga Wagga
13 Marns St,
Wagga Wagga 2650
Email or call 0429 171 400